IDAutomation Barcode Fonts are based on national and international standards and are available in TrueType, PostScript, OpenType or PCL LaserJet Soft Fonts on a variety of operating systems including Windows, DOS, Mac, Linux and UNIX. To print a barcode as a font, the data-to-encode must first be formatted with an IDAutomation Font Encoder, which will return a text string that, when combined with the barcode font, will create an accurate barcode.
All IDAutomation Font packages are available as an online purchase, and can be downloaded immediately and up to 30 days after the order is placed. After 30 days, access to the product and priority technical support is available with the purchase of the one year Priority Support & Upgrade Subscription.
MICR and OCR Font Advantage Packages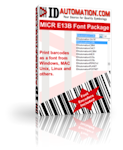 Easy-to-use Self-Checking Barcode Font Packages
Barcode Font Packages that Require Check Digits
Bundled Barcode Font Advantage Packages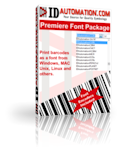 2D Barcode Font Packages
IDAutomation Barcode Font Encoders
Using IDAutomation fonts in conjunction with their free barcode font encoders is an easy way to automate the process of adding start and stop codes and calculating check digits for barcode fonts that require them. The following barcode font tools may be used royalty-free with the purchase of a licensed IDAutomation barcode font.
NOTE: The IDAutomation Universal Barcode Font uses a different set of font tools.
IDAutomation Fonts Technical Support
To learn more about barcode technology, read the IDAutomation Barcoding for Beginners Tutorial.
Barcode Video Tutorials
Barcode Scanners
IDAutomation offers several types of barcode scanners and readers including:
Free Barcode Downloads
Freeware Barcode Font Piracy Notice
In many cases, other barcode fonts distributed as "freeware" or fonts that are sold very cheap are illegal counterfeits. You and your organization may be held liable for using and/or distributing these illegal software products. Learn more about how to identify and report illegal counterfeit barcode fonts.